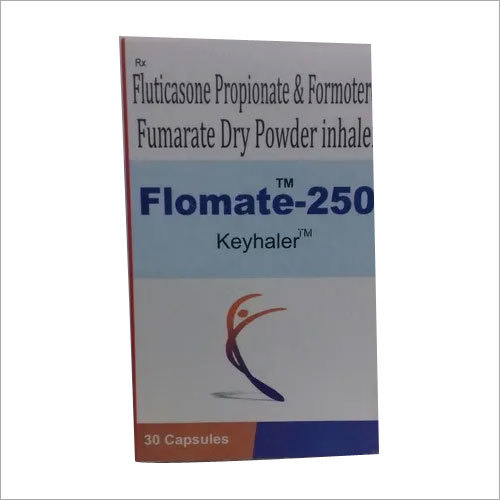 Fluticasone Formoterol Rotacap
Price And Quantity
Product Specifications
As per physician

Dry Place
Product Description
Fluticasone Propionate 250 Formoterol Fumarate 6

The long-acting adrenoceptor agonist formoterol fumarate (formoterol) and corticosteroid fluticasone propionate (fluticasone) have been amalgamated in a single, metered-dose, pressurized, aerosol inhalator for the balanced treatment of patients aged above 12 years with chronic asthma.

We are having some reviews about the clinical efficacy and viability of fluticasone/ formoterol, with a short summary of pharmacokinetic and pharmacodynamic properties of the individualistic drugs. In well designed 8- and 12-week clinical tests in patients with asthma, two times-daily fluticasone/ formoterol 100/10, 250/10 (adults and adolescents) or 500/20 g (adults only) indicated fast and sustained advances in lung functions and asthma control. Improvements accomplished with the set accumulation were greater than those attained with medication or monotherapy with either of the identical respective dosages of formoterol or fluticasone, and related to those demonstrated when the single components were managed through separate inhalers at the same time.

The effectiveness of fluticasone/ formoterol was non inferior to that of budesonide/ formoterol or fluticasone/ salmeterol. Fluticasone/formoterol displayed a quicker onset of bronchodilation if compared with fluticasone/ salmeterol. Fluticasone/ formoterol was by and large well tolerated, including during aid periods of up to 12 months. The admissibility profile of fluticasone/formoterol was mostly analogous to that of budesonide/formoterol or fluticasone/ salmeterol.

In short, fluticasone/formoterol gives clinically significant transformations in asthma control measures and lung function, with a lower frequency of intensification than fluticasone alone.

Trade Information
Yes

Free samples available with shipping and taxes paid by the buyer
Fluticasone Formoterol Rotacap

All India
Fluticasone Propionate 250mg and Formoterol Fumarate 6mcg