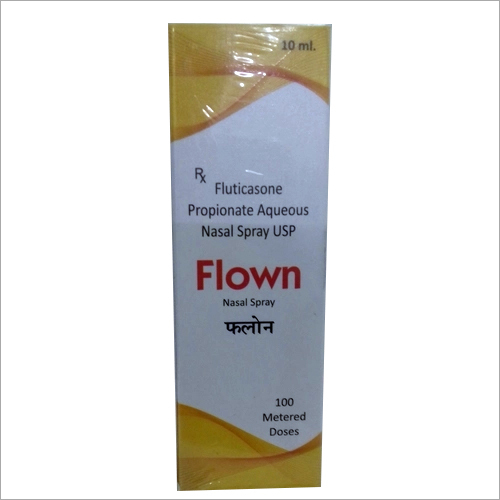 Fluticasone Nasal Spray
Price And Quantity
Product Specifications
1 Unit

Cool dry dark place
Product Description
Fluticasone is corticosteroid, which prevents the discharge of substances in the body that grounds inflammation and swelling. Fluticasone Propionate Aqueous Nasal Sprays are utilized to treat sneezing, nasal congestion, runny nose, and fretful or wet eyes reasoned by seasonal or year-round allergic reactions.

How to use Fluticasone Propionate Aqueous Nasal Spray?

If you are taking the over-the-counter product for self-treatment, read and follow all the instructions on the product's package before you use this medication. If your doctor has prescribed this medicine, read the Patient Information Booklet before you start to take fluticasone and each time you get a prescription. If you have any queries, ask your physician or pharmacist, immediately.

Use this medicine in the nose as recommended by your doctor or the product package, normally once or twice a day. Do not sprinkle it in your eyes.

Blow the nose, gently before you use this drug. Shake the container in a well manner before every use. Follow the directions on how to decently choose the bottle if you are taking it for the very first time or if you have not taken it for a week or longer.

The dosages depend on your age, medical state as well as response to therapy. Do not make any addition in your dosages. Don't use this drug more frequently or for longer than suggested. Your state will not better any quicker, and the endangerment of side effects will increase. You may be suggested to start with a high dose of this medicate for the initial days until you have begun to feel healthier, then drop-off your dose. Children require the smaller amount of drug so as to reduce the chances of side effects. If a child is taking the over-the-counter product, he should read the package directions to perceive how long he/she should take it and when you should check with the physician.

Use this medicine on a regular basis so as to get the most benefit from it. To avoid the chances of forgetfulness try to take this medicine at the same time(s) every day.

Clean the applier on a regular basis. Keep the track of the number of sprays utilized from the container. Discard the container after you have utilized the number of sprays on the package description.

This medicine does not give a straight effects, you may feel an effect as soon as 12 hours after turning to treatment, but it may take various days before you get the full advantages. If your medical condition does not get improved after 1 week, or if it gets worsened, stop to utilize this medication and consult the physician or chemist. If you think you may have a grave medical difficulty, get the medical assistance right away.

nasal drops, are used as local treatments for conditions such as nasal conqestion and allergic rhinitis . In some situations, the nasal delivery route is preferred because it provides an agreeable alternative to injection or pills. Substances can be assimilated extremely quickly and directly through the nose. Many pharmaceutical drugs exist as nasal sprays for systemic administration. Other applications includehormone replace ment therapy treatment of Alzheimer and parkinson's dicease . Nasal sprays are seen as a more efficient way of transporting drugs with potential use in crossing the blood brain barrier.

Our unique formula provides multi-symptom cold relief and helps flush your nasal passages to relieve congestion. Use this no-drip nasal spray at the first sign of a cold and go from Pre-Cold.

But while nasal congestion can be easily treated with an over-the-counter nasal spray, pharmacist Angela Giallourakis, PharmD, says using the spray is not as simple as it might seem. Correct positioning and technique is key to getting the best results,

The most common nasal sprays are over-the-counter ones, which are easy to obtain and provide immediate relief from nasal congestion. Over-the-counter nasal sprays contain chemicals such as oxymetazoline, phenylephrine, xylometazoline and naphazoline.

While an over-the-counter nasal spray can provide relief for a few days, it can have a rebound effect if used for a longer period of time it can actually worsen your nasal congestion instead of alleviating it. Furthermore, excessive use can even damage your nasal membrane.

What happens under this rebound effect is that the swelling inside your nose returns after the effect of the nasal spray wears off, and your congestion will appear to be worse than before. This rebound congestion, known as rhinitis medicamentosa, forces you to use even more nasal spray to relieve your symptoms. This way you get trapped in a never-ending cycle of having nasal congestion and temporary relief from it, if you continue its use.
Product Details
| | |
| --- | --- |
| Brand | Flown |
| Location/City | Pan India |
| Do You Offer Generic Or Brand | Brand |
| Composition | Fluticasone Propionate |
| Prescription/Non prescription | Prescription |
| Dose | 100 metered dose |
| Packaging Size | 10 ml |
| Product Type | Finished Product |
| Promotional Material | Diaries, Android App, Visiting Cards, Writing Pads |
| Medicine Type | Allopathic |
| Also Gives | PCD Pharma Franchise |
| Form Of Medicine | Nasal Spray, Rotacap, Inhaler, Syrup, Capsule, Tablet |
| Product List | Yes |
| Gender | Unisex |
| Certification | ISO |
| Salt | Fluticasone Propionate Aqueous |
| Grade Standard | Medicine Grade |
Trade Information
Yes

Free samples available with shipping and taxes paid by the buyer
Metered dose Nasal Spray

All India