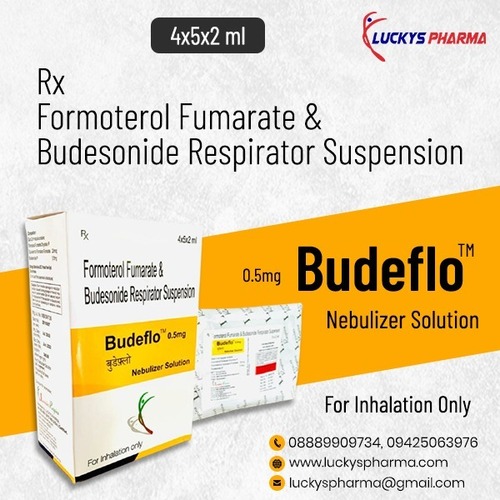 Formoterol Budesonide Respule
Price And Quantity
Product Specifications
General Medicines

Formoterol 20mcg + Budesonide 0.5mg Respules
Liquid

Improve Breathing Disorders
As directed by the physician

As directed by the physician
As directed by the physician

Aged Person, Adults, Women, Teenagers, Children
1 Unit

Cool dry dark place
Product Description
Formoterol Budesonide Respule
BUDEFLO Respules contain an aqueous suspension of budesonide and formoterol fumarate, both of which have different effects on the clinical, physiological and inflammatory indices of asthma.
Budesonide: Budesonide is an anti-inflammatory corticosteroid that exhibits potent glucocorticoid activity and weak mineralocorticoid activity. In standard in vitro and animal models, budesonide has approximately a 200-fold higher affinity for the glucocorticoid receptor and a 1,000-fold higher topical anti-inflammatory potency than cortisol.
In glucocorticoid receptor affinity studies, the 22R form of budesonide was two times as active as the 22S epimer. In vitro studies indicated that the two forms of budesonide do not interconvert.
Inflammation is an important component in the pathogenesis of asthma. Corticosteroids have a wide range of inhibitory activities against multiple cell types (e.g. mast cells, eosinophils, neutrophils, macrophages and lymphocytes) and mediators (e.g. histamine, eicosanoids, leukotrienes and cytokines) involved in allergic and non-allergic-mediated inflammation. These anti-inflammatory actions of corticosteroids may contribute to their efficacy in asthma.
Studies in asthmatic patients have shown a favourable ratio between topical anti-inflammatory activity and systemic corticosteroid effects over a wide range of doses of budesonide. This is explained by a combination of a relatively high local anti-inflammatory effect, extensive first-pass hepatic degradation of orally absorbed drug (85-95%), and the low potency of formed metabolites.
Formoterol Fumarate: Formoterol fumarate is a long-acting, selective beta2-adrenergic receptor agonist (beta2-agonist). Inhaled formoterol fumarate dihydrate acts locally in the lungs as a bronchodilator. in vitro studies have shown that formoterol has more than 200- fold greater agonist activity at beta2-receptors than at beta1-receptors. Although beta2-receptors are the predominant adrenergic receptors in bronchial smooth muscle and beta1-receptors are the predominant receptors in the heart, there are also beta2-receptors in the human heart comprising 10-50% of the total beta adrenergic receptors. The precise function of these receptors has not been established, but they raise the possibility that even highly selective beta2- agonists may have cardiac effects
Trade Information
Yes

Free samples available with shipping and taxes paid by the buyer